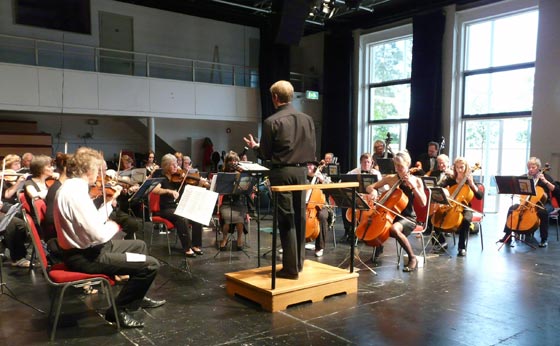 The Newton Abbot Orchestra
Firstly a little history... if anyone knows more and wishes to contribute then please let us know, thank you.
The Newton Abbot Orchestra has been in existence for at least 30 years, having begun its life as The Linden Orchestral Players. As far as we know, Rosina Wall and her sister, Dulcie Sadler established the orchestra and over time, they changed its name to Newton Abbot Orchestra. Marion Room then conducted the orchestra for about 10 years until 1994. Since then, the orchestra has had several conductors until Rob Young took the baton... more

Including contributions from Hilary Kingsley (2011) and Mike Atkinson (2022)
---
Rob Young – Musical Director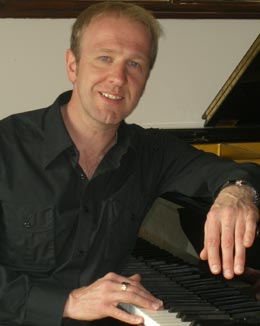 Rob gained his Music degree at Goldsmith's College, London in 1990 where he also received further tuition on piano.
Upon returning to Devon to join the family business he soon took up position as Musical Director of the Kingsbridge Amateur Theatrical Society (K.A.T.S) for whom he M.D'd ten shows. During his time with K.A.T.S, Rob also worked with other societies including T.O.A.D.S Theatre Company in Torquay.
Subsequently he has worked with many other groups including the Torquay Operatic Society (T.O.P.S), Amdram Productions, Exeter Musical Society and even the Bands of the Royal Artillery and Her Majesty's Royal Marines as part of Plymouth's community musical event, Music Of The Night. He has also had a lot of experience as an accompanist and over the past few years has worked on a number of different ventures with the actor/writer Peter Reeves.
Rob became Musical Director of the Newton Abbot Orchestra in October 2006, and since then has conducted many successful concerts in a wide variety of locations.
In addition to M.D'ing, conducting and accompanying, Rob has also found time to write music, and plans to devote more energy to this in the future.
---
At Abbotsbury Church, Newton Abbot Summer 2023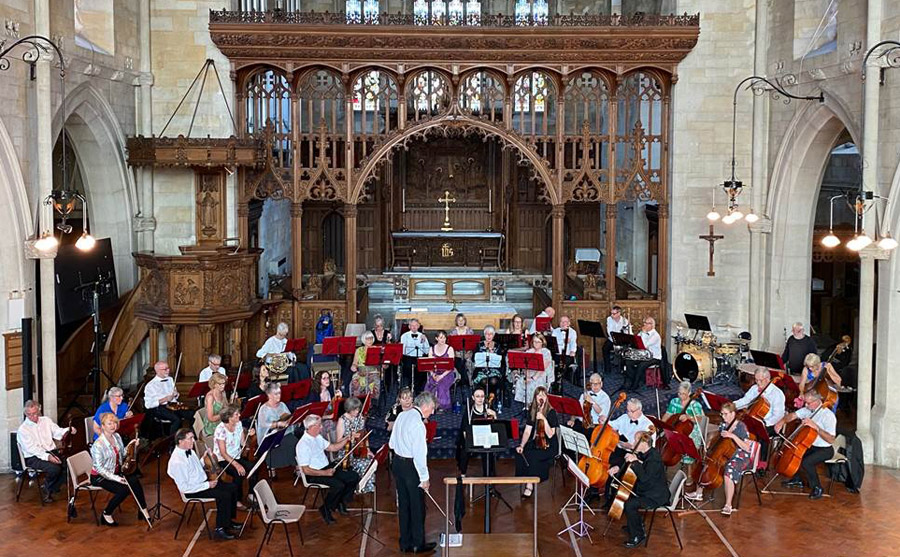 "We appear to be missing someone? Who could it be, I wonder?
More pics - here
---
Tarhu Concert world premiere
A video recording of the first performance of the Tarhu Concerto by Janna Morasch (Bulmer) from the Exeter concert in April 2014.
---


– New content welcome...
Thank you to everyone who has sent jokes and repertoire suggestions. Now you've done the fun stuff how about someone supplying me with new, up-to-date copy? Go on - you know you want to!
Any offers of help re-writing the existing sections, or creating a full history of the orchestra would be much appreciated!
horn Clive