More about the Newton Abbot Orchestra
(The following text taken from the previous website so is somewhat dated...)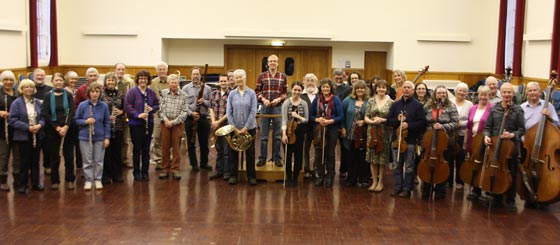 The membership of the orchestra has increased significantly through recent years to around 40 players, and the standard has improved dramatically. The new musical director, Robert Young, has led the drive to improvement, attracting new young players and raising the standard of play. Rehearsals are focussed and concentrated - although still great fun - and members are delighted with the transformation of their orchestra.
The repertoire has, always, included classical overtures and symphonies as well as some lighter music from shows, for instance. It has, now, become more ambitious, not only in repertoire but also in venue, testing audiences not only in Newton Abbot but in Teignmouth and Torquay and, recently, in Buckfastleigh and Paignton.
The first concert of the 2007-8 season was played at the request of Ashburton and Buckfastleigh Rotary Association. An audience of over 200 people, many of whom had never heard of this orchestra, enjoyed a thrilling evening of music, including Mozart, Beethoven and Faure. A regular feature of the concerts is the inclusion of the orchestra's own quartet, playing music often arranged by the then chairman and still current first cello, Janna Bulmer (Morasch). £1400 was raised at this concert, almost all of which was given to the Ashburton Family Worker project, which is supported by Rotary.
The orchestra took part in the Newton Abbot Mayor's Charity Concert on March 8th at Coombeshead Arts Theatre, together with Raddon Hill Clog Morris Dancers and Stover School Cantabile Choir. It was a successful event with which the Mayor, Cllr. Keith Smith, was very pleased. Over £1000 was raised for the designated charity; Home-Start (Teignbridge). Included in the orchestra's part in the concert was the world premier of a piece entitled Bowing the Dust, composed by Janna Morasch (lead cellist and then chairman of the orchestra). It was well received by an appreciative audience, as were all the pieces played.
The next concert, on May 15th at St. Luke's Church in Torquay, was another success story and the standard of playing was, if anything, better than ever, largely due to the fanatastic direction from Rob Young. The audience, though not huge, was appreciative and a return visit is likely next year. Among the items played was the piece composed by Janna referred to above. And a talented young Bassoonist, Joe Scarffe, played Mozart's Concerto for that instrument.
As a result of a second invitation by Ashburton and Buckfastleigh Rotary Association, this concert programme was repeated in St. Luke's Church, Buckfastleigh, on June 20th to an appreciative audience which braved very wet weather to attend. A report of the concert can be seen on page 55 of the July 11th 2008 edition of the Mid Devon Advertiser.
And, we were invited to give yet another concert in Buckfastleigh on 12th December! So, what did 2009 bring to the orchestra? In fact, it was an ambitious scheme to accompany the Torbay Operatic Society in concert performances of 'Showboat'. Four were given in late March at Oldway Mansion, Paignton, Abbotsbury Church, Newton Abbot, and two at the Flavel Centre in Dartmouth. Then, in May, it performed in a Studio in Dartington and, in July, gave concerts in the Daphne Colman Hall and in front of St. Leonard's Tower in Newton Abbot. And, once again, it was asked to give a concert in Buckfastleigh in December (10), which was very successful.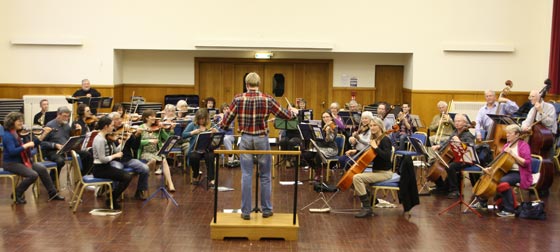 ---
RECOLLECTIONS OF THE LINDEN ORCHESTRAL PLAYERS
by Mike Atkinson
During the 1970s, when I was at Newton Abbot Grammar School (which became Knowles Hill School whilst I was there), I played trumpet in the school orchestra. In the sixth form I got together with four other boys to form a brass quintet; and also around this time I joined a small amateur orchestra which later became known as the Linden Orchestral Players.
The Linden Players - conductor Rosina Wall
At the time I joined, in the late 1970s, this group was simply known as The Linden Players and conducted by a woman called Rosina Wall. Rosina was the daughter of the violinist and composer Alfred Wall, and was an accomplished viola player and music teacher herself. She lived in a house called Linden Lea in Coombeinteignhead, where I believe she gave private tuition to pupils wanting to learn violin and other stringed orchestral instruments. Of course, her pupils needed experience of playing along with others, and I seem to think she founded an ensemble for her pupils which she called The Linden Players after the name of her house.
By the time I joined, although The Linden Players had expanded somewhat and met in St.Leonards Church in Newton Abbot, it was still primarily composed of string players. There were many violins, several viola and cello players, and my great uncle Ronald Atkinson on double bass. In contrast, the rest of the orchestra was rather thin on the ground.
There were four woodwind players. My father, Derek Atkinson, on second oboe; and three school teachers from (I think) Maynard's School in Exeter who played oboe, clarinet and flute. My recollection is that these three teachers - all women - all had names that began with J. Certainly the oboist's name was Jean, and I think the clarinetist was called Joan.
The brass section consisted of just one player - me, on my trumpet. I persuaded my first girlfriend, Sally, to join the orchestra too. She was an excellent violinist, and I think between us, she and I probably reduced the average age of the orchestra players by about twenty years.
Within a year or two of me joining, Rosina became seriously ill. She was not a young woman, and her illness combined with the advanced average age of the players, led to talk of The Linden Players being disbanded.
An Orchestral Workshop Day - conductor Jean Salder
In order to try and save The Linden Players, an idea was devised for an orchestral workshop day. A guest conductor would be found, a suitable piece identified, and adverts placed for instrumentalists to come along on the day - to rehearse during the morning and afternoon, for a public performance in the evening.
I have no idea, now, what the chosen music was. Almost certainly a symphony, I think, and one well enough known to encourage people to come along and participate. The conductor was Rosina's brother-in-law, Jean Salder. I don't know much about him, but I have read somewhere he was a musical director from Cornwall. Certainly he was an experienced conductor, and seemed to know very well how to coax what he wanted out of a scratch orchestra.
I have memories of the rehearsal hall being quite filled with musicians and with sound, and I think musically the day was a great success. Of course, the real test of success would be what happened next.
For many of the musicians who took part, the workshop day was just that ... a day. But some showed interest in staying on, including a very accomplished french horn player called Neil. He worked for one of the high street banks, and like many ambitious young men in banks at that time, he moved around from place to place to gain experience of different job roles. He had an awesome ability to transpose at sight as he played. So if he turned over the page of his music to find his horn was suddenly written in (say) D instead of the usual F, he could just keep playing.
So The Linden Players had some new blood in the shape of more instrumentalists, but it became clear Rosina was not fit enough to return in the foreseeable future. The rather more pressing problem was the lack of a conductor. I seem to remember Jean Salder was approached, and politely declined. However, his wife Dulcie, Rosina's sister, came forward.
Dulcie Salder lived some distance away, but she did like to visit her sister on regular occasions. I think she reasoned she could drive to Newton Abbot once a week; visit Rosina during the day, conduct the orchestra in the evening, and drive home late. She told us she was quite prepared to be musical director, but would not run the whole organisation like Rosina had done. Other people would need to come forward to do the administrative tasks.
The offer was accepted with alacrity. Dulcie would talk of Rosina from time to time, but as far as I recall she was never well enough to return, and Dulcie became the regular conductor.
The Linden Orchestral Players - conductor Dulcie Salder
Once Dulcie had agreed to conduct the orchestra, Neil offered to be treasurer; before, as he put it, "someone finds out I work in a bank and asks me." He also brought up the name of the orchestra. "Linden Players sounds like an amateur dramatic group," he said, "we ought to have a name that tells people what we are." His suggested alternative was Newton Abbot Symphony Orchestra, but he recognised there was an attachment to the old name. Agreement was eventually reached on Linden Orchestral Players and he duly opened a bank account in that name.
I have fond memories of Dulcie's conducting. She surely knew her instrumentalists were a motley bunch, of widely varying ability, but I don't ever remember her becoming angry or frustrated with us. And even today I remember her method of learning tricky rhythms by finding place names that fit. Who knew, for instance, that Barnstaple begins with a dotted quaver? Or that in Cullompton, the dot is on the second note? Inspiring stuff.
She also liked to develop the skills of her players when she saw the opportunity, and she acquired music to suit. I well remember Neil bowling with some aplomb through the final movement of Mozart's fourth horn concerto - the melody of which I knew well as the tune of Flanders and Swann's song Ill Wind. I also remember her in discussion with Sally about a violin concerto - although I don't think anything came of that because Sally went off to college shortly afterwards.
For me, she produced the Haydn trumpet concerto in E flat. I had a vinyl record of this; and I knew and loved it well as a piece to listen to. Playing it, however, was another matter altogether. My grade 5 embouchure simply wasn't capable of producing the clear high notes demanded of the first and final movements, but I made something of an effort with the second (slow) movement. It probably sounded pretty awful, but I have an abiding memory of playing it to the accompaniment of a full orchestra - something a mediocre amateur trumpet player like me could never normally dream of doing.
I enjoyed my time playing with the orchestra, but a young man's life changes quickly. I lost my two closest orchestra allies within a short period of each other. Sally went off to the London College of Music, never to return; whilst Neil's employer moved him to another job in another town, and he disappeared as suddenly as he'd arrived.
I wanted to be a very much better player than I was, but couldn't find the motivation to do the necessary practice. Some time around 1984-85 I gave up playing, and have never gone back either to the trumpet, or to orchestral playing. Although I haven't given up music altogether, these days I sing tenor in a rather good choir - but that's a whole 'nother story.
- Mike Atkinson, March 2022
---
Memories – by Hilary P. Kingsley
Newton Abbot Orchestra had its beginnings many years ago as the Linden Orchestral Players. I believe these were led and conducted by a viola player, Rosina Wall. Her father, Alfred Wall, had studied at the Royal College of Music and had two daughters, Rosina and Dulcie who was a cellist. When Rosina gave up viola playing because of arthritis, her sister conducted the Linden Players and they assembled in the screened-off area at the West end of the nave of St Leonard's Church. Dulcie renamed the group Newton Abbot Orchestra.
When I first joined with trepidation I was encouraged to continue by Mary Bennett who played the viola. That must have been some time in the late 1970s. When St Leonard's closed, the orchestra moved to the gymnasium of Coombeshead College, sometimes used the school hall there, and later moved to the Daphne Collman Hall in Knowles Hill School. Dulcie Salder was succeeded as conductor by Marion Room, a teacher at Audley Park School in Torquay. Other conductors followed her, and three members of one family were among them, David Bourne, his wife Lorraine and their son Steven. Our present conductor, Rob Young started with the orchestra at Knowles Hill School (now Newton Abbot College).
(10th March 2011)